Tripawds is a user-supported community. Thank you for your support!
I just love this time of year!  Watching the trees start to turn colors and the crisp evening air and chilly mornings.  Awesome!   And it also means that Halloween is coming.   I can't decide which is better, tricks or treats!  I love playing tricks on my fur brothers but treats are pretty good too.  That's kind of a hard decision.  Jasper and Ringo get so mad when I trick them and steal their bone or toys.  I don't mess with Winston, he can be kinda cranky and he is not very playful. I only play these tricks because I want someone to play with me.  I hope that when I snag something out of Ringo's mouth, he will give chase.  He cannot believe how fast I can move for only having three legs.  Just stand back and watch me haul some butt!  Sometimes Ringo gives chase but most of the time he just shoots me a nasty look and ignores me.   Typical big brother, thinks I am a bratty little brother.
And this time of year also means Halloween and that the trick or treaters will be cruising by the house to get their goodies.  One of these years, I am gonna hang out in the bushes and jump out and scare all of them!   Mama says I am too cute to scare anyone but I could give it a good shot.     What do you think?  Here's my best scary face: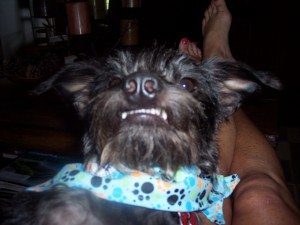 Personally, I would be very scared if I saw this face, especially in the dark.  Jasper actually scoffed at me!  Said I look like a dork!   And Ringo agreed.  OK, fine, I get it.  Wanna pick on me?  I can play that game.  Check this photo out.    Talk about dorks!  This is Ringo trying to be cool last year at Halloween: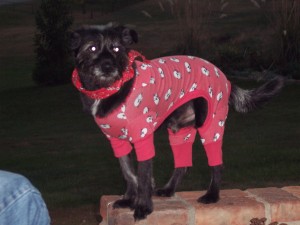 Oh my!  That is the dorkiest of all dorks!  And he thought he looked cool. I told him no way and if he thought the ladies were gonna like a guy dressed up in sheep pajamas, he was nuts!   He didn't speak to me for a few days after that comment…..
I am not sure what I want to be for Halloween this year. Mama said she will check out some costumes and see what she can find.  I could just go as "Handsome, Cute and Smart Tripod" in other words, as myself!   I am pretty cool after all so a costume may not be necessary.
The other reason I like this time of year is it means Barkaritaville!   That is Schanuzer Rescue Cincinnati's annual event and big fundraiser. Mama organizes a lot of it with help from Dad.  The best part is we get to go too!  Last year I was a brat though, didn't like attention being diverted from me so I was kinda snippy. I promised I would be nicer this year.   It will be fun to see lots of our friends and other fur faces.    I won Best Howler last year and am determined to defend my title this year. No one can lay down a howl like me!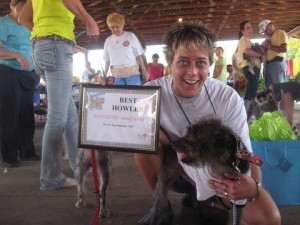 (Oooh, another thought!  I can hide in the bushes with my scary face and HOWL at the trick or treaters!   Yes, that's it!   Bet I really scare them all off if I do that.  And if I scare them off, does that mean I get the candy?  Oh wait, no, because we cannot have chocolate and that is usually what Mama buys.  Darn it!) 
I'll have to be sure and blog about all the fun we are going to have at Barkaritaville this weekend.  I am going to be styling, wearing my Cute as A Button tshirt and a studly scarf made my a friend of ours named Momma Ann.  Look out ladies!  Stand back and just watch this handsome fella in action. I'll have all the girls fawning and fainting over me before the day is over.    Not to mention that Mama will get us some cool stuff there so it will be like Christmas when we get home from the event.  Ah, I can see all the treats and toys now, just waiting for me to get them.   This life is pretty rough but someone has to do it!
Adios for now but please wait in breathless anticipation for my next posting.