Tripawds is a user-supported community. Thank you for your support!
Wow!  Where did 2011 go?   I can't believe it is time to say goodbye to 2011 and welcome in 2012.   I guess time just flies because I am so happy and loved!   I've been with Mama and Dad now for over three years and still can't believe I got so lucky!   This tripod is living one fantastic life!   Good food in my bowl every night, lots of treats and toys, three fur brothers who for the most part are pretty cool, and a wonderful Mama and Dad who love me so much, missing leg and all.   I'd say life really can't be much better and as 2011 closes out, I have been reflecting and realizing how blessed I am.  To think that some folks turned me down or didn't consider adopting me because I was missing a leg.  Silly people, they don't know what they have missed out on.
I know I have been bad and not updated my blog since September.  I've just been so busy living the high life and being my normal cute and clownish self, that time got away from me.  Sorry about that!  I am not living up to my promise to write about tripod life and how wonderful it is. 
One of the best things in 2011 was Schnauzer Rescue Cincinnati's Barkaritaville, their annual group fundraiser that Mama is in charge of.  Of course us four boys got to attend and we had lots of fun.  It was neat to see so many schnauzers in one place and to meet some of our rescue friends that we had not met before or those we don't see very often.  But I must admit I was one bad boy at the event!   The park where Barkaritaville is held isn't fenced so us fur kids have to be leashed, crated, or in an ex-pen.  Mama bought an ex-pen for us this year and when she tested us in the yard, we all behaved like little angels. It was a different story at Barkaritaville. I did not think it was cool that Mama was running around being busy and paying attention to other dogs.  So I decided to show her!  I climbed, yes climbed on three legs, out of the ex-pen three times!  And it was a 36 inch ex-pen!   So who says tripods are limited in what they can do?  I've been known to climb five foot fences too. My foster Mom Iris had to keep a close eye on me because I would climb her fence if I wanted out bad enough.  Nothing is stopping this guy!   So after I escaped from the ex-pen three times, Mama decided she would just tie me with my leash to a pole, close by to where she was doing fundraising stuff so I could see her.  (I CANNOT stand it when Mama is out of eye sight!)   Well, I showed her again.  I chewed through the leash, and yes, it was leather! and ran through the crowd to find my Mama!   So she tried one more trick:  She put me in a five foot tall ex-pen that was not easy for me to climb out of.  I tried to climb out once but didn't make it.  So instead of trying again, I  just sat there and whined at the top of my little lungs, making all kinds of racket!   Mama finally gave up and ended up carrying me around the rest of the day or tying my leash to her belt loop so I was always by her side.    Here's a shot of me and Mama posing for the camera –  am I a handsome fella or what???   (rhetorical question there – no nasty comments from the peanut gallery!)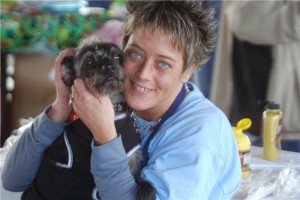 Mama said her shoulders and back hurt from carrying me around all day but I loved it!  Everyone kept saying how cute it was that I wanted to be with Mama.  And guess what?  I won Best Howler for the second year in a row!   I must say I can croon with the best of them and I dare someone to challenge my title next year.  Back it off boys, I am howling champion and don't you forget it!
Besides Barkaritaville, we have mainly just been laying low and hanging out.  Jasper is still an idiot, I think he is permanently going to be one!, Winston still gruffs and growls over everything but that is just his way, and  Ringo is just his normal self, but I still hate when he won't let me have his toy.  I only want it if he has it.   It has been nice to have a lazy fall and early winter and just bask in the glory of being a dog, and a tripod at that!  I did want to share a shot of me catching up on my reading, Stephen King particularly: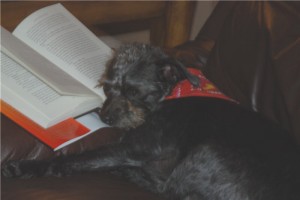 And I should also talk about the nice Christmas we had.  Mama and Dad got us some new stuffies, which we all destroyed in about ten minutes flat (gotta get that squeaker out!), some treats and some really good bones stuffed with peanut butter.   We are such spoiled brats!  We were good boys this year though and no one knocked over the Christmas tree or chewed up any presents.  Last year, Ding Bat Jasper actually chewed the lights off!  Thankfully the tree was unplugged or we would have had one toasty, fried Jasper for a fur brother.   I told you he was an idiot.  Oh Brother!   Guess he just makes for some cheap entertainment though so I shouldn't complain.
I am making a new year's resolution to update my blog more often.  I hope I can stick to it. I love sharing my stories with you, just have to find time in my busy tripod life to dust the ol' laptop off and start writing.   I want to wish everyone, humans and fur faces alike, a most wonderful and blessed upcoming 2012.  May every dog be as lucky as me!