Tripawds is a user-supported community. Thank you for your support!
Hello everyone!  As the title says, Yep, I am still here, just been so busy being a tripod that I have neglected my blog.   I know, shame on me!  I've been a bad Zippy for not keeping  folks updated on how great my life as a tripod is.
As I said, I have just been one busy little beaver this year.  Although unlike beavers, I don't do the dam building thing.  Seems kinda silly to me, never really got that whole deal??   Anyway, I digress.  I'm supposed to be telling you about how busy I have been.   First of all, I have spent the spring and summer being quite the ladies man!  Mama and Dad have had several foster dogs in the last few months and much to my delight, they have all been girls!  I just love having the ladies in the house.   I like to impress them and wow them because I am so smart and funny.  I just love showing my tug skills off to the ladies too.  Boy does that impress them!   I show them that just because I am missing a front leg, don't think I'm not strong and don't think I am gonna let you win.  No way, no how.  I am the tug champ of the neighborhood and while I love the ladies, no girl is gonna take my title!  
The girls have been fun but boy have they been young and dumb!  I've had to teach them all  kinds of things like how to walk properly on a leash (yes, even missing a leg,  I have outstanding leash etiquette), that the proper place to do one's business is outside in the yard and not on Mama's rugs, and that only chew toys are for chewing.  One must never eat Mama or Dad's shoes, paper out of the garbage cans,  plastic plates, decorative pine cones, magazines, or anything that resembles or acts as a dog bed.  Mama got us boys this really awesome, super comfy dog bed and one of those silly girls chewed a big hole in it.  Looked like another crime scene in the house with stuffing and material scattered everywhere.   I was waiting for the "fuzz" to bust in and start putting up the caution tape and taking statements.   Mama was not happy and neither were Ringo and I because we loved that darn bed.  Mama gave it a nice funeral by way of the garbage can.  : (
It's been a hot and sticky summer around our parts but that hasn't stopped me from stalking bugs in the yard, peeing on absolutely every plant, tree and blade of grass in the yard, and working on my tan: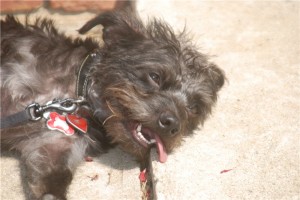 Here lately though, it has been so hot though that I gave up worrying about working on my tan in favor of the air conditioning.  Ah, nothing better than lounging on the leather couch, cool as a cucumber, while the sun beats down outside.   My fave chill spot is on the back of the couch, which is just conveniently located close to the register duct, and also provides one bitchin' view of the front yard.  Gotta keep an eye on my turf and make sure no rogue squirrels or chipmunks are invading it.   I decided the birds are allowed in the yard.  Well, I didn't really make that decision, Mama said so –  gotta abide by the rules.  It's actually kinda cool. I get some cheap entertainment during the day by watching the birds come to the bird feeders.  But there is one bird I am dying to get and I think I could almost convince Mama it is OK.  It's a mockingbird.  He apparently is looking for a date because he is singing NON-STOP all day and night long.   Geez buddy!   You'd think that after a few days, he'd get the point that the single ladies aren't interested.   Even Mama is getting annoyed –  you can even hear him inside with the AC running!  If I could get at him I'd tell him to move on and look for a girlfriend somewhere else!
I hope everyone is having just as fun a summer as I am.  I'm so lucky to have a home where I am so loved and spoiled.  My mama and Dad love me so much. I never thought I would be so lucky to find them.  I thought no one would ever give me a chance because I was a stray AND a tripod.  If you are ever looking for a new fur baby, please consider a rescue and even better, consider a tripod.  We're a special kind, full of life and love and never let a mere missing leg slow us down!