Tripawds is a user-supported community. Thank you for your support!
I sure hope everyone,  fur and human both, are having a good holiday season!  I sure am.  First and foremost, I am so thankful to be in a loving home where my humans and fur brothers love me for who I am.  Two years ago around this time, I had just been found roaming the streets and was rescued by Schnauzer Rescue Cincinnati.  I sure didn't think at the time that I would end up being so loved and spoiled.   My leg hurt so bad where it had been broken and not healed and I was so very cold and hungry.  So every year now starting around Turkey Day, I really reflect on how lucky this little tripawd guy is! 
OK, that being said, this holiday season has been fun too because there has been lots of snow around for us!   I just love the snow, it is so fun to run around in it.  I do this crazy little thing where I spin around in circles and then stick my whole head down in it!   I come up out of the snow with one heck of a snow beard, which I think makes me look quite distinguished and extra handsome.    Winston says I am an idiot and the snow beard just makes me look silly but I see him copying my moves all the time so I must be onto something.  All he does is copy me!  If I pee on it, he has to pee on it. If I sniff it, he has to sniff it. If I want on Mama's lap, of course he has to weasle in too.  But I really like that he copies me. I feel like I have really taught him to become a better tripawd and a better dog too.  He is still pretty growly and gruff, just his way.  But after all my talks to him that he was with Mama and Dad and me and Ringo and Jasper forever, I think he is finally getting it.  Duh!  I told him Mama would never let him leave and that we would be tripawd brothers forever but he had to doubt me.    Geez!  Does he not know I am The All Knowing Zippy?   Yes, not only am I a handsome devil and got more moves than John Travolta in Saturday Night Fever, I am also one wise fella too! 
The only bad apart about the season is it is COLD!  Since I am part Chinese Crested, I have pretty thin hair and almost no hair on my belly at all.  Mama makes sure she puts on my sweater or coat when we go out.    See how handsome I look in it here?  I am cracking up laughing at something Jasper said: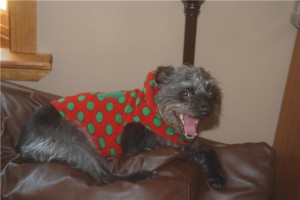 While I love to go out in the snow and dance and play in it, I cannot stand those little ice balls that get stuck on my fur.  Pet peeve BIG TIME!   If I feel one on me, I have to plop down in the middle of the road or yard or wherever and make sure to get it off.   Mama laughs at me because I make such a big deal out of it.   But her laughing is worth it because since she knows I hate the ice balls on me so bad, she always makes sure I get an extra rub down with the towel when we come in.  That is one of my faves, that towel rub down thing.  How cool is that?  If I ever win the lottery, I am going to hire someone to towel me down whenever I feel like it! 
Santa Claus was pretty good to us this year too.  He brought us some new sweaters, treats and pork chews.   Mmmmmm good!   And a friend of ours named Ann made us special edition holiday ties.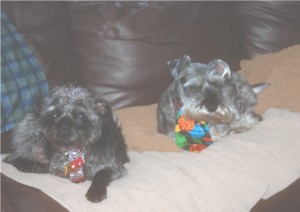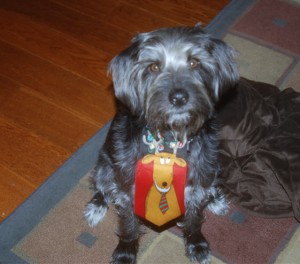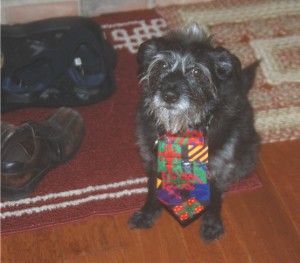 We would like to thank Ann for making us look so stylish and handsome! 
In closing (why am I being so formal?   So I impress  you with my smarts!), me and my three fur brothers want to thank everyone  helping us find our forever homes with Mama and Dad.  And to plead with you:  if you are considering a new fur face for the family, please, please, please get a rescue dog!  Save a life in the new year!!   We make the best pets and just look how happy we are now that we have a safe and loving home.  Signing off for now but look for more of my wisdom in the upcoming new year!