Tripawds is a user-supported community. Thank you for your support!
Well, I sure have a lot to update everyone on and I am not sure quite where to start!   So much has happened this summer since I last posted.
First of all, Winston is no longer my foster brother, he's my real brother!  Mama and Dad decided he just had to stay with us so they adopted him. I am so happy to have a permanent tripawd brother!  I really like having someone like me hanging around and I was not looking forward to the day when my new buddy would have to leave.   Now he doesn't have to!   Yippee!   Winston is really cool. I am teaching him  how to be an active tripawd, he was pretty lazy when he first came to our house.  Now he can't wait to go out for walks and he is even learning to lift his leg to pee, thanks to watching me.  He's gotta work on the balance thing though, he falls on his face a lot when he tries to hike a leg up!   It's funny.  But I can say that because I have fallen on my face lots of times and only another tripawd gets what it is like to have balance issues.  Winston got mad at me the first time I laughed at him until he realized it was funny too.   The only bad thing about him is he likes to hog Mama's attention and I don't like that!  I want to be her one and only but I guess I will have to learn how to share her affections.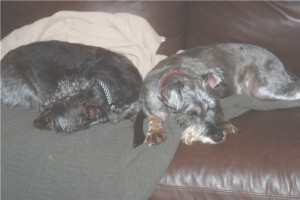 Jasper and Winston have a love-hate relationship though.  Jasper was pretty mean to Winston when he first came so now Winston likes to show Jasper he isn't afraid of him anymore by growling any time he comes near.  That boy is a growlin' fool!   He just growls about everything, unlike me, I whine instead!   I personally think the whining is much more sophisticated than a growl.   I don't blame Winston since Jaz can be an idiot, but it's been two months now and Winston needs to get over it!  Even Jasper is not trying to be mean to him anymore.  He looks at Mama like "why is this silly dog wtih only three legs growling at me for this time?"  I think they really want to be buddies but neither wants to admit it.  Darn dog ego…..
And besides the exciting news of having Winston as a real brother now, I've also been out and about.   A couple weekends ago, Schnauzer Rescue Cincinnati had their big annual fundraising event for members and past adopters.  Mama was in charge of organizing it all.   She had lots of help though from Dad and other SRC members.   The event was so fun!  All four of us guys go to attend.  We had a fun time seeing all of Mama's rescue friends and meeting other dogs.  Well,  I should say everyone else had fun meeting other dogs. I was in a bad mood that day, I was afraid Mama was taking me some place to drop me off and leave me, so I was mean to all the other dogs.  I tried to bite several of them.  I am ashamed of myself now, Mama was upset that I was being such a devil boy!   I just was so scared she would pull out in the car from the park and leave me there.   I was just being silly I guess.  I should know by now how much Mama and Dad love and adore me.  They would never let me go.  I promise to be better next year at Barkaritaville.  That's what the event was called – pretty clever name huh?  The best news of the day: I won the Best Howler contest!  I don't howl on a regular basis but I do like to sing on occasion.  I just started howling up a storm and won the contest!   My SRC friend Michelle, said it sounded like a Halloween Howl because I sounded like I was almost humming instead of howling, kinda like a mean, ol Halloween ghoul!   Maybe I can hide in the bushes this year during Trick or Treat and scare all the little kiddies that come down the driveway….
Mama also took us to Farmer's Fair in Aurora for the big pet parade.  Farmer's Fair is a big deal where we live, it is the oldest festival in the state of Indiana. I was so proud to walk with Dad in the pet parade and show off how great a tripawd can move.   Everyone was amazed at how fast I was going,  I was pulling Dad down the parade route on my leash!   And I loved meeting all the little kids too, they were really cute and it was an opportunity to show the young ones what special dogs we tripawds can be – no handicap will slow us down!   I hope Mama takes us back to the fair next year.  We had so much fun!
As you can see, I have had a busy summer!   Of course, I did all of this in between lounging on the couch, hanging out on my new doggie sofa that Aunt Lo Lo gave us, begging for treats and just being my usual charming self!